Why I Went To Work for vAuto
Dale asked me to introduce myself to the readers of his Blog. My name is Rafi Hamid, and I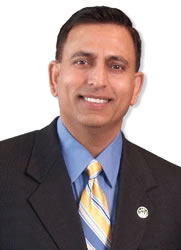 am the new Senior Director of Digital Marketing Services for vAuto.
As many of you may know, my focus has been on Automotive Retailing on the Internet for the past twelve years, with ten of those years successfully managing and directing mega-dealer groups. So how and why did I come "across the fence" to work for a vendor? Well this is very easy: the answer is Dale and vAuto.  I have known Dale Pollak and his father Len for over 20 years since they were a Cadillac and GMC dealer and I was Finance and Leasing Director for a Toyota-Saab-Subaru dealer next door. I've had continued respect for Dale and his family. Then, I was overwhelmed after my first encounter with vAuto at one of my stores in Florida. After we signed up with vAuto, our used car business skyrocketed. I have watched Dale become a legend in the industry – dealers listen to him with respect and understand him because he has a wealth of knowledge. So the answer is: Dale and vAuto.
This May, I submitted my resignation from my position as a Director of eCommerce at the Napleton Organization in Illinois, and I simultaneously sent an email to all of my business contacts to let them know about this decision. It was no surprise that the first person to respond – that same morning – was none other than Dale. He wanted me to join vAuto. The quality of the technology and the executive team at vAuto was second to none. So I asked Dale what he envisioned me doing at vAuto. His immediate response was a question, "Rafi, you are an Internet guru and authority. Certainly you can you tell me where dealers are hurting?" My answer was used cars and understanding the challenges of the Internet. Dale agreed, "We need to help our dealers improve their used vehicle Internet processes and I want you to help them excel. Rafi, your presence at vAuto would be an added benefit to our existing and future clients. vAuto's clients will have yet another unfair advantage over their competition."
To all our readers, as a part of vAuto's extraordinary commitment to customer satisfaction, I'm available to help and support all of our existing clients in streamlining their Internet / BDC or Internet Store processes.  I hope to also offer advice and support to readers of this blog. I will be taking any questions or comments regarding online business success. I will also be sharing my experiences with vAuto clients for the purposes of promoting best practices. I have already had some unbelievable interactions and I look forward to sharing these with you in my next posting.
Dale, thank you for your incredible response time to my announcement that I was looking for a career change – imagine if I had been a customer submitting an inquiry for a vehicle on the Internet. It is not uncommon to end up purchasing the vehicle from the person who responded first and had the right message. My experience with you reaffirms that the right message at the right time will close more sales.
I look forward to reading your questions and comments.
– Rafi            [email protected]