An Example of "Textbook" Used-Vehicle Inventory Management
Recently, John Griffin, vAuto's VP of Performance Management, supplied me with the following metrics. These numbers belong to Grossman Chevrolet Cadillac in Burnsville, MN (612-889-0128). Fabian Macken, GSM and Kevin Fowler, UCM are the managers responsible for this incredible performance. I would encourage everyone to contact Fabian and Kevin to learn more about their winning philosophy and tactical approach to used-vehicle inventory management. I would also welcome anyone to contact me with questions about the meaning of the information or the approach that they've taken. Congratulations to Fabian and Kevin for their winning month!
As of 08/31/2008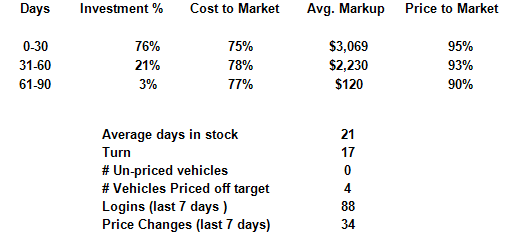 Both Fabian Macken and Kevin Fowler use vAuto data and management tools daily as in integral part of their used vehicle management processes. They will deliver 100 units in August at approximately $2,000 per unit with a 77 unit inventory. This is front end gross and does not include F&I. Moreover, they have less than $1,000 in wholesale losses. To put it bluntly- they are "rockin the house" and it is certainly not a result of a "hot" franchise or market. This is a success story- no doubt about it.