Accomplishments and plans from a top performing Toyota dealer
What follows is a note I received yesterday from Craig Belowski of Acton Toyota.  Craig, GM Mike Hills and the rest of their team are top performers in every aspect of dealership operation.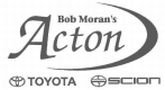 Dale – although we got beat out for 1st place TCUV in the Boston Region this year we are proud to have finished with a strong #2 in the Nation for December with 126 TCUV's reported!  We also came in 2nd in the region for 2009 with a total of over 1000 TCUV's…we were 3rd with under 700 just a couple short years ago before we started our Velocity journey!
We had an amazing year beyond TCUV with a #5 finish in new Toyota sales, top 10 in Scion, #11 in Tundra, and retailed more Prius' than the top 2 dealers in the Boston Region combined!
We are #48 Nationally for new Toyota sales, and ranked #12 for Nationwide TCUV!
What makes me most proud is we have accomplished all this while remaining an example setting store for CSI attaining (not yet official) Toyota Sales Excellence, Service Excellence, Part's Excellence, Toyota's President's Award, Toyota Customer Advisory Board, and for our first time, Toyota's Board of Governors. These awards should be officially announced and we will be leveraging the SEO power through press releases.
We will be using "Live Market Pricing" showroom handouts (also featured on our all new website) as well as the vAuto showroom tool for in-person customers even more in 2010.  We will be paying even closer attention and have added video to our used vehicle virtual display and will continue to monitor our SRP's and VDP'S along with creating great descriptions.  Our vehicle sourcing efforts have included vAuto stocking and appraisal tool training for 2 of our buyers and I know that will help us improve these results for 2010.
 Velocity 2.0 will become required reading for our Sales Management and eCommerce Team in the first quarter, so we all will have some ideas to add to our library. – Craig