Best dealership on the planet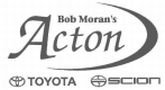 Some dealerships earn distinction among their peers, in particular, in areas of dealership performance such as sales, service or customer satisfaction.  Very few dealerships, however put it all together as Acton Toyota has done.  I just saw where they won the awards for:
President's Award
Board of Governors
Customer Service Advisory
Sales Excellence
Service Excellence
Parts Excellence
Customer Relations Excellence
Best Managed Dealership
 As well as the highest distinction from Toyota Motor Sales, that of the President's Cabinet, an award given to only 12 dealerships across the country.  Congratulations to Mike Hills, Craig Belowski and the rest of the Acton Toyota team.