Inefficiencies Create Tough Ownership Challenges
This week's Automotive News brings word that dealers are throwing in the towel rather than investing more in facility upgrades required/requested by the factories.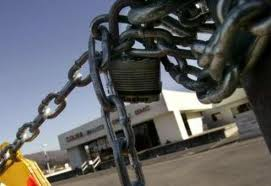 Dealership brokers estimate 40 percent of all buy/sell deals today arise from dealers facing needed facility improvements.
On one hand, it saddens me to see our industry come to a point where more dealers are saying, "I can't afford to invest any more in my business."
On the other hand, it's not surprising to see this development take shape due to two key reasons:
Facility inefficiency: "Bigger is better" has always been a mantra when it comes to dealership facilities and acreage. Both factories and dealers have long regarded this axiom as necessary: Bigger means more space to hold more inventory/service bays to appeal to more customers. This model may have made sense in years past, but it's an inefficient albatross for many of today's dealers, whose customers do most of their shopping online and prefer to spend as little time at the dealership as possible. In addition, many of these "bigger is better" facilities sit on costly, prime retail locations, creating more margin pressure. It's no surprise, then, that dealers facing another iteration of "bigger is better" facility upgrades opt to exit the business when the deals don't pencil.
Organization/process inefficiency: I would bet that many of the dealers who are opting to sell their operations have struggled to re-focus their people and process to embrace today's Internet-driven marketplace and lower rates of new vehicle sales. Even with recession-spurred cost-cutting, they likely retain largely traditional organization structure and processes. This typically means separate sales teams and managers for both Internet and showroom customers, and new and used vehicles. Likewise, they probably still focus on maximizing gross profit on every deal rather than maximizing their return on investment on every new and used vehicle they carry. To me, this is a recipe for front-end efficiencies that do not resonate with today's savvy buyers and put undue strain on a dealership's bottom line, no matter how well fixed operations is performing.
I feel for dealers wrestling with an "it's time to sell" decision. Due to constraints on capital, the pool of potential buyers is smaller, and the cloud of needed facility upgrades likely limits the ultimate value of their dealership to a new purchaser. To make matters even more difficult, all this comes on top of these dealers' efforts to re-energize operations, only to come up short.
Moving ahead, we should pay close attention to the organizations that are purchasing these troubled dealerships. I believe they will offer instructive lessons on how to make "efficiency" a key operating mantra for all dealers.