A View From Vegas: Five Key Take-Aways From Internet-Focused Dealer Events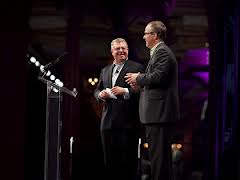 Like a lot of dealers, I spent the better part of last week in Las Vegas for the DrivingSales Executive Summit and Digital Dealer 13. I came away thinking that the car business has fully arrived as an Internet-driven business. Here are some top-line take-aways:
1. Facebook's Arrival: I recall the skepticism a year ago about Facebook. Why would anyone want to "like" a car dealer and how is this medium a winner to sell cars and service?
The answers to those questions came at both events as Facebook reps and dealers discussed how the social network's advertising and marketing campaign tools have become more robust and business-friendly. Velocity dealer Joe Castle of Castle Chevrolet in Chicago shared how he married a 14,000-plus list unsold prospects to Facebook's user community and turned half of them into service customers. Other dealers noted how astute engagement and subsequent amplification of customer-friendly content is helping them sell more cars.
Facebook's automotive lead, Doug Frisbie, encouraged dealers to get in the game through the company's Custom Audience, sponsorships and ad network offerings. He noted it's OK for dealers and other businesses to "sell" on the social network, provided it's done amid other meaningful and relevant engagement.
One easy, first-step idea that takes a page from the showroom bulletin boards of yesteryear: Take pictures of your happy customers and their cars, post them to the dealership Facebook page and encourage "likes" from customers.
I still have reservations about Facebook's value as a car-selling tool (its click-through rates to dealer sites remains miniscule). But I can't deny the 1 billion-plus participants and their penchant for sharing photos, videos and other aspects of their lives multiple times a day, every day. Facebook says it's got the ultimate "word of mouth" platform, and it's hard to dispute the claim. (Even Google echoed this reality by noting the pace of social media-driven sharing and endorsing is accelerating—nearly one in five car shoppers viewed a shared video and nearly three-fourths of buyers say recommendations from friends and family carry significant weight in their car-buying decisions.)
2. Hello, Big Data. Remember the shopping funnel? It almost seems a quaint concept as event speakers and dealers discussed how online shopper behavior is far less linear than previously thought. A Google representative suggested today's "funnel" is more like an inter-linked carousel, giving dealers multiple opportunities to engage shoppers in "the moments that matter."
These new behavioral insights are the result of new technologies that allow dealers and their vendors to track the comings and goings of today's online shoppers—and engage them in a relevant manner at almost any point and time they express an automotive-related interest online.
The implications for Big Data are profound and will help move dealers and their vendor partners to provid the satisfying, "these guys really know and understand me" experiences common at other customer-centric retailers.
3. Transparency Rising. Several dealers mentioned Northwestern University professor Florian Zettelmeyer's keynote at Driving Sales. An eye-opening nugget: His research found that addressing a vehicle's asking price at the start of a sales conversation produced better front/back gross profits (to the tune of $1500) than mentioning price at the middle or tail-end of the discussion. This goes against the grain of the "Road to the Sale" process common in many stores.
But the finding affirms my long-held belief that addressing the way you price cars up-front and validating your asking prices via the market yields better and more consistent profitability and customer satisfaction in the long run.
A prediction: We'll see more dealers redefine what "up front" means at their stores. They'll provide a greater degree of transparency in their marketing and messaging before a customer visits the dealership.
4. Going Mobile. "People use mobile devices the way they used to use computers." That's the simplest way to describe the fast-growing rise of mobile devices and their usage. This trend has online and offline implications for dealers:
Online: Dealers should ensure their websites and other online offerings fit the form and focus mobile devices require. One speaker noted the difference between Southwest Airlines' main website and its mobile site. The latter is far simpler and more oriented to flight essentials (e.g., booking, checking status, etc.). For dealers, the core elements of a deal—the right car, the right deal and the right dealership—should be guiding principles as they connect with mobile customers.
Offline: Dealers should expect more customers to use mobile devices to cross-check prices and vehicles as they visit your dealership—a convergence, if you will, between technology and a consumer's need for transparency. Dealers who embrace this trend and provide the tools to make the job easier for their customers will be best positioned to earn a buyer's business. At the same time, the need for greater efficiencies in dealerships will spur greater use of mobile devices in sales and service to connect with customers and effectively market and merchandise their vehicles and service offerings.
5. The E-Commerce Creep. Congratulations to Minneapolis-based Walser Automotive, which won the Best Idea Award at the DrivingSales event for its "I'll Take It" program. I wrote about this smart idea in August and I'm delighted to see it earned top honors from dealers at the event. The accolade, I think, is a sign that dealers recognize a greater degree of their deal-making will need to occur with e-commerce tools to speed up transactions, satisfy the I-want-it-now mentality of many buyers today.