NADA Data Reveals Four Profitability Challenges
Overall, 2012 was a good year for franchised car dealers.
In its recent recap of last year's dealership financials, the National Automobile Dealers Association (NADA) reports that total dealership sales increased 9.2 percent compared to the prior year, driven by gains in the new and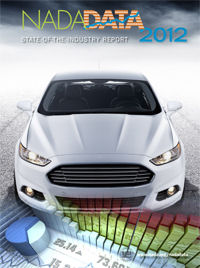 used vehicle departments, as well as F&I.
But the relatively rosy portrait of dealership financials shows a few profitability challenges:
1. Margin compression. NADA says dealers' gross profit margin as a percentage of total sales dipped from 14.4 percent in 2011 to 13.7 percent in 2012. Meanwhile, dealers' net profit before taxes fell from 2.3 percent to 2.2 percent during the same period.
This margin compression is nothing new, and the NADA report points to familiar factors that include a .4 percent decline in the gross margins for new vehicle sales and a 4 percent increase in overall dealership expenses (including $315,000 more in payroll costs at the average dealership).
At the outset of 2013, there were cautionary reminders that dealers avoid the temptation to loosen their grip on efficiencies and expense controls that helped them weather the recession—all of which remain relevant today.
2.  Decline in service and parts revenues. The NADA report shows total service and parts revenues dropped from 13.2 percent of total sales in 2011 to 12 percent last year. Likewise, the average dealership saw a 17.4 percent decline in service and parts profits between 2011 and 2012. In addition, net profit in service dropped from 7.1 percent to just under 6 percent in the past two years, even as the average technician count dropped from 15 to 13 in that period.
The financial performance follows two years of relatively strong new and used vehicle sales. The upshot: Dealers should double down on efforts to improve customer pay work and retention to help drive the long-term financial health of their dealerships.
3. Decline in used vehicle profit/retail unit. NADA says the per-used vehicle-retailed (PUVR) profit average dropped from $269 in 2011 to $194 in 2012, a 27 percent decline.
Part of this decline likely owes to dealers selling more used cars—as the volume goes up, the profit on a per-car basis declines.
But I also suspect that higher costs to acquire the "right" cars and the inability for some dealers to retail these vehicles quickly accounts for diminished profitability.
A bright spot in used vehicles: Dealers are acquiring more cars via trade-ins (61 percent of their inventories flow from new/used vehicle deals, up from 57 percent in 2002). Likewise, they are mining off-street and "other" purchase sources to feed a combined 15 percent of their inventory needs, up from 7 percent in 2002.
4. Greater emphasis on F&I. NADA reports that the F&I office's share of total dealership gross profits increased to 36.9 percent in 2012, up 3.1 percent from 2011.
On the surface, this is a good thing. Dealers are turning to their F&I offices to make up for diminished profitability and revenues in other departments. Drilling deeper, however, dealers should be aware that an over-reliance on F&I income may become problematic given the prospect of charge-backs and federal regulation on rate reserves—both of which will crimp F&I profits.
Interestingly, the challenges highlighted in NADA's report appear less profound for velocity dealers who have put people and process efficiencies front and center in their efforts to increase dealership-wide profitability.