The Ultimate Car-Shopper Carrot: Special Offers
When was the last time you bought a TV at full price? How about that new golf club or bag? Truth is, as consumers, we're all conditioned to look for deals, sales or specials on virtually anything we buy. It's what we expect. Same goes for car buyers. Yet, only about 44% of dealers promote any specials on the third-party sites where they list their cars. In less than a decade, the Internet has made today's car buyer far smarter and savvier about the car-buying process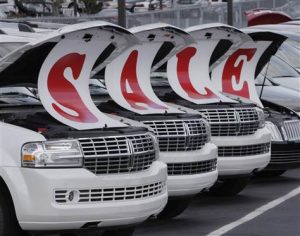 than ever before, and that genie is never going back into the bottle.
The 2011 Polk Automotive Buyer Influence Study confirmed what had long been suspected about new and used car shoppers' online shopping behavior, and that is they spend the majority (60%) of their shopping time online. And the actual numbers are even more dramatic: Out of the nearly 19 total hours they spent on the car shopping process, 11 hours of it was online. During the course of those 11 hours, they're researching prices, comparing makes and models, viewing photos and videos, reading reviews and looking for the right dealer. And the tipping point that helps drive them to a specific dealer? Special offers, dealer rebates and incentives. In fact, according to Automotive News, 74% of shoppers considered "Special Offers" when choosing a vehicle from a dealer. "74% of shoppers considered 'Special Offers' when choosing to buy a vehicle from a dealer."
Special Offers Win Customers and Keep Them Coming Back
While car shoppers' top concerns are pricing and payments, never lose sight of the fact that their overarching goal is to get the best value, which can be everything from how you frame your value proposition as a dealer (service, experience, quality, etc.) to creative incentives for doing business with you. And since your goal with any car buyer is to build a relationship to the point where they make you their go-to car-buying and maintenance source, incentives are a great way to start.
Indeed, promoting your dealership's specials and special financing, along with OEM incentives and rebates are going to do a good job of moving shoppers from a Search Results Page to a Vehicle Details Page and then into your actual dealership. For example, new vehicles with a special get 34% more VDPs than those without. But today's car buyer also expects better service, and you've got competition for every aspect of the car business – other car dealers, quick lube operations, tire retailers, brake and muffler franchises, and general repair retailers to name a few. So cultivating good post-purchase relationships with service specials can trump a lot of that competitive unpleasantness and keep a satisfied customer coming back for more.
Get the Word Out
Promote all of your incentives, leasing offers and so on everywhere your dealership is online – your own website and third-party sites – and with display ads on local sites as well as automotive sites. Use your third-party partners, such as AutoTrader.com, to stay abreast of what's going on at your OEM and turn on your specials feature through your partner! Ensure that anything related to a special offer is visible and easy to find so the shopper doesn't have to search for this information. Mine your CRM and create email campaigns; use social media. Mix in traditional media, too, and be sure you that you've got plenty of signage and in-store merchandising that support your offers.
Here are 10 ideas for special offers that you can use to tip the scales in your favor.
Rebates ─ your OEMs have them and car buyers love them. Connect the dots and you've got opportunity for additional gross profit and co-op reimbursement.
Financing deals ─ approximately 75% of car buyers finance some portion of their purchase, and 80% of these are financed through the dealer.
Lease payments ─ the leasing business is loaded with opportunity, and car shoppers are naturally attracted to lower monthly payment options.
Monthly payments ─ highlight all used/certified incentives. Used vehicle listings with specials get 19% more VDP views than those without.
Complimentary loaner cars.
Complimentary maintenance for a period of time with the purchase of a car.
Free car wash with service.
Free balancing and tire alignment with the purchase of complete set of a tires.
Price-match guarantee on major services.
Rewards-based loyalty program ─ in addition to rewarding customers for their loyalty in your service bay, it's a great tool to build relationships with customers over the long haul with customized special offers and time-sensitive promotions. Service and maintenance contracts, road hazard insurance and other convenience insurances are smart ways to tie customers to your dealership. Be aware that programs packed with restaurant, retail and recreational promotions seldom perform as well as services available exclusively at your dealership.
Granted, there's extra work associated with creating specials online, but if you do it with a third-party partner such as AutoTrader.com, you can automate the process. Remember, less than half of car dealers promote their specials online, and in many major markets it's even less than that. So for the dealers who put in the extra effort to promote their specials, it's an excellent strategy with minimal competition.