Will "True" Vehicle Pricing Mean Much For Tomorrow's Buyers?
This question comes to mind while reading an Automotive News article this week about a lawsuit between TrueCar and Sonic Automotive, Inc.
According to the article, TrueCar is suing Sonic over the public dealer group's "True Price" program for pricing and promoting vehicles. TrueCar contends that Sonic is creating confusion in the market, and damag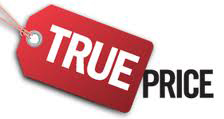 ing the "True" brand that TrueCar says it has been working to establish since 2008. Sonic reportedly intends to fight back, and will sever all ties with TrueCar at the end of the month.
I
definitely understand why TrueCar and Sonic m
ight go to court to decide who gets the right to claim their vehicle pricing and valuation as "True." Neither appears to want a scenario

where consumers would see multiple claims of "True" vehicle pricing—and wonder why one price is more "True" than another.
But, whoever wins the case, there are three reasons I wonder if "True" vehicle pricing will matter much as our industry increasingly embraces consumer desires for a greater level of transparency and trust from dealers:
First, I think it's fair to say that vehicle buyers today (and tomorrow) will determine their own "True" price. They go online and study the market to determine what constitutes a fair price for a new or used vehicle. Even if they click on a "True" offer or price, they'll still want to validate it as "True" to the market they've assessed—a symptom of their long-held distrust of dealers and fear of buying cars.
Second, the market is the ultimate truth-teller. Over time, as more dealers use the market to guide their new and used vehicle pricing, there'll be less need for anyone to claim they have the "True" price on a vehicle. At this stage, I believe that "Your Price," buoyed and backed by credible market data, will be an equal, if not more compelling, proposition for vehicle buyers.
Third, as market-pricing becomes ubiquitous, dealer-driven pricing games will diminish. In turn, customers will move past price and seek a higher order of deliverables from dealers—including an attentive, efficient, personalized and professional experience.
Some of the most forward-thinking dealers in the business have already staked their fortunes on the idea that a superior customer experience, combined with more market-transparent pricing and sales processes, will lead to long-term profitability and prosperity. Interestingly, these dealers don't tell customers what's "True" or isn't; their actions speak for themselves.