NADA Day 3: A Great Start And An Even Better Finish
I started today with a memory that makes me smile.
Before the exhibit hall opened, Mike Burgiss, the CEO and architect behind Cox Automotive's new MakeMyDeal application, handed me a sticker.
The sticker's a reproduction of napkin he's kept in his pocket since a conversation two years ago at NADA in Orlando. Mike had asked me to help him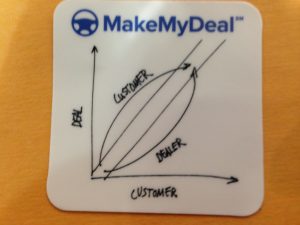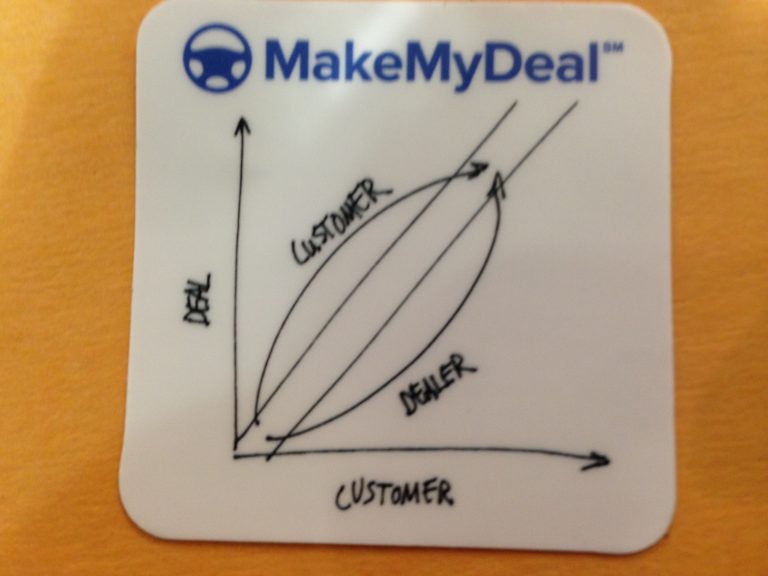 brainstorm a new product that might help dealers work deals with customers online.
We talked about the fundamental friction between dealers and customers in the purchase process. Dealers want to maintain control of a deal's elements and information, while customers need a greater level of information transparency and, in some cases, they want to work the deal themselves if they could.
We concluded there had to be a way for these competing needs to converge. Mike sketched the intersection point on a napkin—a drawing that has provided the inspiration and guiding principles as the MakeMyDeal too has come to life.
Mike tells me they've had a strong debut here at NADA, with dealers signing up to use MakeMyDeal and provide a different, more efficient and satisfying way to help customers purchase cars from online vehicle listings. I'm excited to see the results dealers will be able to achieve with this product.
A few minutes after Mike stopped by, a team from NADA came to vAuto's booth to give us a "Best Booth" award for mid-sized companies. The award goes to exhibitor
s who combine branding, creativity and design in the most compelling way.
The award validates all the great work vAuto's partner, The MX Group, and our marketing team put into creating our company presence at NADA. On a more personal note, however, the award makes me think of our first official exhibit at NADA just eight years ago…where we had little more than a couple of laptops and a banner in a space that seemed the size of a phone booth.
Both experiences proved to be a very positive way to start what became a very good day. Here are a couple nuggets from my time on the exhibit floor with dealers:
Buying vehicles online: Several dealers talked about how they had seen greater success in used vehicles after they more fully embraced acquiring/selling wholesale used vehicles via online auctions. One dealer confirmed that some dealers' fears about online vehicle purchases are over-blown. "There's actually more protection for dealers buying online than you get in the lane," he says.
An inspirational quote: Mike Porro, vice president and general manager for Sam Swope Honda World in Louisville, shared his strategies for incorporating tablets in his sales process at the dealership, which has helped cut transaction times and make a smaller sales team more productive. He also offered this quote: "You can make an excuse or make a change. Only one of them will make a difference."
The strength of Certified Pre-Owned (CPO) vehicles. Several dealers shared positive stories about their experience retailing CPO vehicles in the past year, and wondered how the segment will fare in the coming year. I relayed that it'll be more challenging to manage margins amid the expected rise in off-lease units. But I also believe CPO programs have come of age and consumers now recognize that a CPO badge can ease their No. 1 worry that they'll buy a bad used car.
After the exhibit closed, I had the honor and privilege to attend a Germain Motor Company vendor appreciation event. Once again, Steve Germain, John Malishenko and the entire Germain team demonstrated that success in our business has been, and will continue to be, built on the strength of family and relationships.
See you all on the exhibit floor on Sunday.