NADA Day 2: A Few Firsts From The Floor
It was a lively, long day on the exhibit floor at NADA on Friday.
A dealer joked, "Dale, I heard things weren't going so well, and that you're selling socks at NADA this year."
The truth is, I was giving away Stockwave-themed socks as part of our launch of the innovative wholesale sourcing solution. I handed out dozens of pairs to dealers who stopped by the Stockwave and vAuto booths.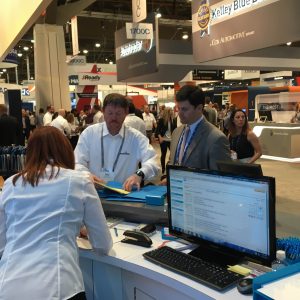 The give-away highlighted our belief that Stockwave would knock the socks off of dealers who saw it.
It didn't take long to ink the first Stockwave deal. Soon after the exhibit hall opened at 8:30 a.m., dealer Chase Smith of Houston-based Russell & Smith Automotive earned the honor of being the first to sign up here for Stockwave.
The deal was one of several firsts that occurred during opening day on the exhibit floor:
It was the first time in some time that I spoke with dealers who were not using any kind of technology or tool to manage their used vehicle inventories. In one case, the GM at a Ford store says his dealer's been content with 40-50 retail used sales a month. I asked him why make a change now. "I want to take things to the next level," he says.
I also found some initial signs that while dealers are generally doing well, some recognize that tougher times are likely on the horizon. In my conversations with dealers, we discussed how they'll need to become even more efficiency and profitability-focused as they contend with rising supplies of used vehicles, factories like General Motors taking a more active hand in retailing used vehicles, the growing number of buyers in longer-term finance deals and negative equity positions, an inevitable rise in interest rates and the industry's dependence on leasing to drive new vehicle sales.
We had an unprecedented number of referrals from other software brands with Cox Automotive. The hand-offs resulted from in-booth conversations with dealers who expressed concerns/needs about their new/used vehicle inventory management and performance.
As we closed up shop for the day, and tallied up our booth sales and leads, I couldn't help but think back to vAuto's earliest days. We sold more deals today, in one day, than vAuto managed in its entire first year of business. That's quite an achievement, and it underscores a lesson it wasn't easy for me to learn as vAuto's founder—get professional help when all the signs suggest you need it.
I'm looking forward to what Day 3 at NADA will bring. See you on the floor. #justturniton