NADA 2017: A Milestone Moment For Our Industry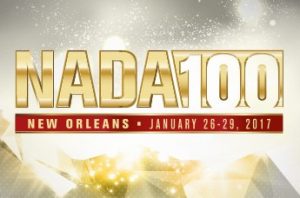 It's fitting that this year's National Automobile Dealers Association convention will occur in New Orleans.
What better place to celebrate NADA's 100th anniversary than the city where "laissez les bons temps rouler!" is the order of any day?
The anniversary is an important milestone for our industry. If it weren't for NADA, the enduring strength of the franchised dealer network would be nowhere
near where it is today.
For me, this year's event will mark my 48th NADA convention. I'm a little humbled to realize that I've been around the car business nearly half as long as NADA has been in existence.
But I also confess that I'm just as excited about this year's convention as I was when I made my first trip as a 10-year-old.
For me, NADA is the single-most important dealer event on the calendar. It's the one time where you can connect, and reconnect, with long-time dealer friends and their families. Everyone's focused on the year ahead, and looking for ideas and insights to help them get ahead.
I especially relish my conversations with dealers at NADA. It's like a four-day immersion school on automotive retail.
I suspect much of the discussion will center on whether 2017 will bring yet another record-setting pace of new vehicle sales. I think we'll get there, or at least come fairly close, in terms of volume.
I am concerned, however, that the vehicle volume gains will come at the expense of dealer margins, in both new and used vehicles. I sense other dealers understand this emerging reality, too, judging from pre-NADA interest we're seeing from dealers to demo Stockwave, and vAuto's Conquest and Provision systems. These dealers recognize it's ever-more important to have the right new/used vehicle inventory, priced and promoted properly, on their lots to achieve their goals for profitability and sales volumes.
I'm also curious and excited to see what new technology and tools will be available to help dealers connect their sales and service teams more effectively and efficiently with today's customers, as well as each other.
All in all, I'm sure the good times will roll in New Orleans. I suppose the key question will be whether they keep on rolling through the remainder of the year.
I'll be spending my time at the Stockwave and vAuto booths (#1737 and #1719, respectively). Please stop by and say hello if you have the opportunity at NADA.
Safe travels to everyone headed to New Orleans. I look forward to seeing you there!