Day 1 in Rome: Hope, Concern, History—And Gelato
My first full day of planned group activities in Rome got off to an extremely inspiring start.
We met with the Sisters of Sion, a group of nuns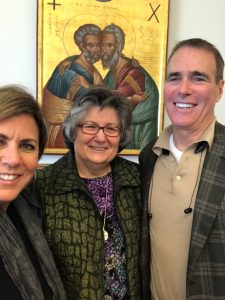 who are committed to fostering unity among peoples of different religions, and celebrating diversity of thought. The Sisters have outposts around the world. They work tirelessly as educators and teachers to spread their message of community, compassion, justice and peace.
It may sound weird to say it, but I felt a strong sense of calm and hope during the meeting. Ours is a big world, seemingly filled with trials and tribulations in every corner. Yet, the Sisters carry on, committed to a mission that transcends all of us.
As we said our goodbyes, I made a personal commitment: Knowing that there are people like the Sisters committed to a greater good, I should spend less energy and time sweating the small stuff.
Our second stop of the day brought us together with members of the Italian parliament. Our speakers were chosen to discuss the growing migrant problem in Europe, and to offer an example of the diversity of views on both sides of the parliamentary aisle.
As you might expect from meeting with politicians, no clear answers emerged to the question of how best to handle migrants fleeing terror- and war-torn countries.
But there was a strong consensus of concern from the speakers about the United States. Each talked about the United States as a beacon of Western civilization and values. They expressed concern that our beacon is flickering and, if it fades, they worry about a Domino effect of harmful economic and human consequences across Europe.
I found myself worrying a bit, too. I said a quick prayer, asking that our leaders recognize the ever-more inter-connected nature of our country and the rest of the world. It was striking to see, up close and personal, how much the eyes of the world are really focused on us.
As the morning moved to afternoon, Nancy and I got out for some sight-seeing.
Like so many other visitors to Rome, we were awe-struck
by the beauty and vibrancy of the Spanish Steps and surrounding area. We sat on the steps to soak it in. I found that you don't have to see the area to know it's a special place. If I were an artist or painter, I'd probably come here for inspiration, too.
As we walked, Nancy gave me a nudge. "Hey, that's the Pantheon." Sure enough, we were standing near the steps of an extremely well-preserved, 2,000-year-old example of iconic Roman architecture. How they built the concrete dome without any reinforcement is beyond me. I also couldn't help but marvel at how much history resides on every street corner here.
On our way back to the hotel, Nancy convinced me to take part in a dietary indiscretion. As someone with a strong sweet tooth, I typically avoid sweets. But Nancy spotted a shop jammed with people eating gelato. "When in Rome…" I said. We laughed. It was the best gelato I've ever had.
Both of us are looking forward to our meeting with Pope Francis on Thursday. Our hosts have told us it's important to be prepared, as we'll each have a few moments alone with him.
All I can say is I'm glad I've got another day to get ready.