Pope Francis Calls For 'Revolution Of Tenderness' In Surprise TED Talk
"A single individual is enough for hope to exist, and that individual can be you."
In a surprise appearance via video at the TED 2017 conference in Vancouver, Canada, on Tuesday evening, the pontiff said that tenderness is "the path of choice for the strongest, most courageous men and women."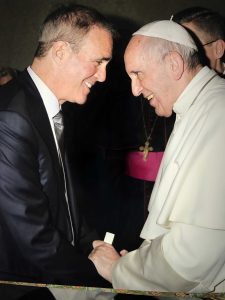 "Tenderness is not weakness; it is fortitude. It is the path of solidarity, the path of humility. Please, allow me to say it loud and clear: the more powerful you are, the more your actions will have an impact on people, the more responsible you are to act humbly. If you don't, your power will ruin you, and you will ruin the other."
The Washington Post reports that Bruno Giussani, TED's international curator, spent a year trying to snag the pope for a talk. The newspaper reports that when the pontiff appeared on screen, "the room erupted in applause."
He spoke in Italian, with the comments translated in subtitles, from Vatican City.
Francis spoke of being from a family of migrants, urged more "equality and social inclusion" in science, decried the "culture of waste" and called on people to listen to the "silent cry of our common home, of our sick and polluted earth."
He also said we all have the capacity to "react against evil."
"Through the darkness of today's conflicts, each and every one of us can become a bright candle, a reminder that light will overcome darkness, and never the other way around."
But the pope's unifying message for a conference themed "The Future You" was one of a revolution of tenderness … a revolution, he said, that begins with hope.
"A single individual is enough for hope to exist, and that individual can be you. And then there will be another 'you,' and another 'you,' and it turns into an 'us.' And so, does hope begin when we have an 'us'? No. Hope began with one 'you.' When there is an 'us,' there begins a revolution."
The above article was originally posted in the Huffington Post.