Three Take-Aways From A One-Day Tour In Detroit
My new book, Like I See It: Obstacles and Opportunities Shaping the Future of Retail Automotive had me on the road this week in Detroit.
The visit sparked a lot of stimulating conversation as we met with editors from Automotive News,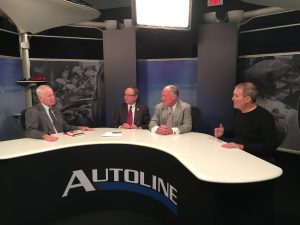 Ward's Dealer Business, Reuters and Autoline.
Like me, the automotive media is thinking hard about the future of the car business, and what tectonic shifts in vehicle ownership and technology will mean for dealers, OEMs and everyone else in the ecosystem.
I did my best to make three broad points during these discussions that I thought I'd share here:
Big change is coming. You can't help but view the coming convergence of ride-sharing, the changing interest in, and nature of, vehicle ownership, and the rise of autonomous vehicles as disruptive forces for retail automotive. Our conversations in Detroit highlighted how some dealers are hedging their bets today by offering vehicle subscriptions and experimenting with new ways to retail vehicles. I think we all agreed that it isn't really a question of if retail automotive will look and operate differently than it does today, but when.
Efficiency offers a way forward. Several times during the day, I made the point that while the future may have some dark clouds, we have a strong, vibrant car business today. Dealers are likely to retail 17 million or so new vehicles this year, and 40 million-ish used vehicles. This business simply won't go away overnight. I also shared my view that while the business is strong, we face significant issues—margin compression, factory control, the prospect of diminished demand—that dealers will need to more proactively address if they want a seat at the table in the not-too-distant future. I outlined how dealers who confront long-standing inefficiencies in the way they manage their people, processes and promotional efforts stand a greater chance of long-term relevance than those who don't.
Dealer resilience: We shared some laughs with the media folks when I noted that, like Mark Twain's death, the demise of the dealer has been frequently and greatly exaggerated. At one time, the Internet was supposed to bring an end to auto retailing as we know it—a prediction that, while partially true, did not fully come to fruition. Looking further back, pressure on state franchise laws brought similar predictions. In every media meeting, I underscored how unwise it would be, even in the face of a somewhat uncertain future, to bet against dealers' collective ability to adapt, reinvent and thrive.