vAuto Performance Management Meeting: A Special Award and Heartfelt Send-Off
I had the honor and privilege of attending the annual vAuto Performance Management meeting this week in Chicago.
My primary job at the meeting was to share some perspective on ProfitTime and the experiences we've had transitioning dealers to its investment value-based methodology and the benefits it brings.
But perhaps the more important jobs, at least in terms of their emotion and impact, was my participation and support for two important milestones for the PM organization:
The Steve Solmes Spirit Award: At NADA earlier this year, we received some devastating news. One of vAuto's original Performance Managers, Steve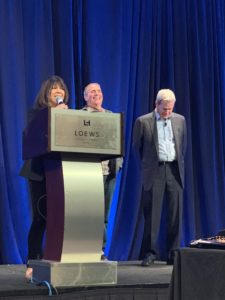 Solmes, had passed away.
He's been on our minds ever since.
This year's Performance Management meeting marked the inauguration of the Steve Solmes Spirit Award. The award goes to a Performance Manager who, in the judgement of team leaders, best embodies the commitment, dedication, passion and selfless spirit Steve brought to his dealer clients and fellow members of the PM team.
Cherie, Steve's wife, joined us at the PM meeting to present the award.
She brought us to laughs and tears as she remembered Steve.
He had more than a dozen ways to prepare SPAM. He knew the Bible from front to back. He could quote a verse that applied to almost every situation, on the spot. He dedicated his life to serving others.
"vAuto was Steve's second family," Cherie told us. "He cared most for God, family and cars, and sometimes it wasn't clear whether cars or family came in second."
vAuto's John Griffin, who hired Steve to be one of vAuto's first two Performance Managers in 2007, shared how Steve always left a positive impression.
"Every time I worked with Steve, I left a better person," John said. "He showed me how I could be more kind, more caring or more giving."
This year's Steve Solmes Spirit Award went to Steve Jacobs,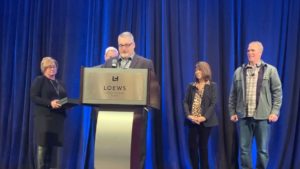 a Performance Manager we hired in 2008. Steve's tears as he accepted the award underscored the impact Steve Solmes brought to every person and purpose he encountered.
It was a tender, touching moment that speaks to a profound legacy that I'm proud the PM team will continue to honor in the years ahead.
John Griffin's retirement. A few weeks ago, John announced his plans to retire at the end of the year. John was one of vAuto's first clients. His integrity as a person, and his skills as a leader and motivator, were eminently clear from the moment I met him.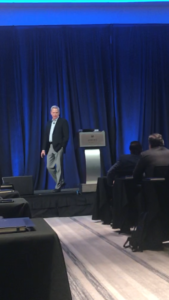 I hired John to help build vAuto's Performance Management team, which has become a more than 200-person-strong cast of stellar car business professionals. In that time, John's Performance Management responsibilities also spanned across Cox Automotive.
Fittingly, Dan Winchester, who joined vAuto with Steve Solmes as our first two Performance Managers, took the stage to recognize how important and inspiring John has been for everyone on the Performance Management team.
"John…you brought out the best in me," Dan shared. "I remember when a 23-store group decided to cancel vAuto. You were there. You told me, 'it hurts, but here's what we've got to do to fix it.' I want you to know that we are going to make you proud."
Each Performance Manager wrote John a letter—a nod to his interest and passion in reading, and the time he'll soon have on his hands to read and reflect on the impact he had on the team he built.
As John soaked up his standing-ovation moment, holding his box of letters, he shared some final thoughts that struck me as a fitting to close to a truly stellar car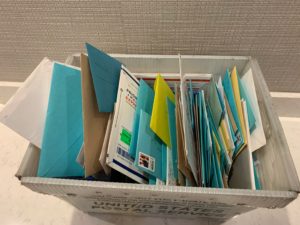 business career and reflected his long-standing belief that if you want to keep your team focused, keep 'em fed.
"It's been an honor to have the opportunity to work with all of you," John told the team. "I consider myself lucky to be associated with such a professional, talented group of people. I've already had my say on the stage, and I don't want to get in the way of your lunch. Go get it!"