A New Year and A New Book For Dealers
For much of the past year, I kept a secret.
The secret was the fact that I'd begun working on a fifth book.
I kept the wraps on this work until I was satisfied that it was ready for prime time.
Today, on the final day of 2019, I'm happy to make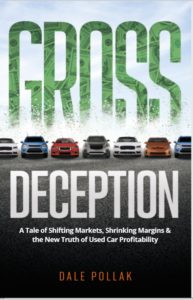 my secret known.
My latest book, Gross Deception: A Tale of Shifting Markets, Shrinking Margins and the New Truth of Used Car Profitability, will be officially released at the upcoming National Automobile Dealers Association convention in Las Vegas.
The book tells the story of a fundamental change that occurred in the used vehicle business in the spring of 2016, and how this change has largely gone unnoticed to the detriment of nearly every dealer.
The book explains why dealers are retailing more used vehicles and making less money. It also details a discovery that can help dealers halt, if not reverse, the trend of declining net profits in used vehicles.
A few weeks ago, while proofing the Gross Deception galley, it occurred to me that the book may be more important for dealers and their businesses than anything I've written in the past.
I say this, in part, because the market forces that converged to change the used car business in 2016 haven't gone away. In fact, they are gaining momentum, even as many dealers expect their used vehicle departments to produce better, more profitable outcomes for their businesses.
It's my hope that Gross Deception helps dealers understand what lies before them and provides a way forward that will help dealers achieve and surpass the results they expect from their used vehicle operations.
I'm anxious to get Gross Deception in the hands of dealers.
If you are going to NADA, I'd invite you to stop by the vAuto booth (#2316C) for a consultation and a complimentary copy of Gross Deception. Visit this page to learn more.
I'll also be sharing details of how you can order Gross Deception when they're available.
Until then, I hope the new year brings you and your loved ones much happiness, good health and even greater success.
Happy New Year!