A Better Way to Price Used Vehicles Arrives
It's a big week for vAuto as we unveil ProfitTime 2.0 at the Cox Automotive Experience, a precursor to the system's official launch at the upcoming virtual National Automobile Dealers Association convention.
I'd encourage dealers to see for themselves how easy pricing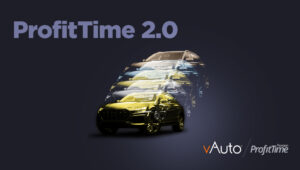 used vehicles to their intrinsic investment value has become with ProfitTime 2.0. The system offers a recommended pricing range for every vehicle, based on its Platinum, Gold, Silver or Bronze investment value. With ProfitTime 2.0, you and your managers no longer need to determine each vehicle's optimal investment-based pricing position on the market. In effect, the system does the thinking for you.
I share the following analogy when dealers ask how ProfitTime and ProfitTime 2.0 are different.
When vAuto launched ProfitTime about two years ago, the system's ability to predict a used vehicle's investment value served as a compass for every dealer. ProfitTime always pointed to what might be considered each vehicle's "True North," just like a compass. ProfitTime 2.0 goes further. It not only points you to a vehicle's investment value, or True North, it shows you how to get there, like a navigation system.
Just like the best navigation systems, ProfitTime 2.0 also tells you when you're off-course. All-new vehicle and inventory summary pages make it easy to measure and monitor your investment management performance. You can immediately see the vehicles that, due to changes in the market or a manager's discretion, fall out of alignment with your investment strategy. You know the cars that require immediate attention to ensure they are properly priced for the current moment.
In many ways, ProfitTime 2.0's recommended pricing guidance represents a big step forward for dealers and the industry. The pricing recommendations flow from the ever-growing ability and sophistication of data science to deliver accurate, actionable insights. By knowing a vehicle's investment quality, regional market performance, a dealer's past performance, current stocking levels and current pricing of similar vehicles, ProfitTime 2.0 appropriately weighs the factors that matter most for a specific vehicle and generates an investment value-appropriate pricing range. From there, dealers can price each vehicle and know if the vehicle's priced to maximize its investment return potential.
Kelly Summers, general manager of Bill Knight Ford in Tulsa, OK, says ProfitTime 2.0 helps his managers efficiently execute their inventory investment management strategy.
"We love the science behind ProfitTime 2.0," Summers says. "It fits our goal being disciplined and following the same process every day. The pricing tool lightens the workload for managers. They don't have to dig and dig to try and figure out the right way to price a car. I'm excited for them in that regard."
I'll be sharing more stories of how dealers are finding greater success as they trust ProfitTime 2.0 to help them make the best pricing decision for every vehicle in their inventories.
In the meantime, you can get a closer view of ProfitTime 2.0 and other vAuto innovations at the Cox Automotive Experience. You can access vAuto's page here.