A Bit of the Whole Truth on Wholesale Profits in 2022
Dealers across the country enjoyed a big blessing last year that previously only big retailers like CarMax, Carvana and some public dealer groups had the opportunity to enjoy.
The blessing came in the form of record-setting wholesale profits. For some dealers, the wholesale line on their financial statements showed more profit in a single year than the previous five to 10 years combined.
It should be noted that this development didn't come about because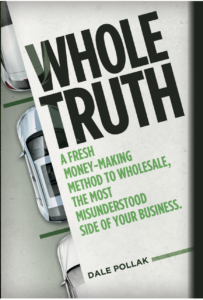 dealers suddenly figured out how to make money in the wholesale market. It also didn't arrive because dealers regarded or treated their wholesale vehicles any differently than they had in the past.
No, the record-setting profits arrived because of wholesale market conditions that ushered in an era of easy money for wholesale sellers. If the wholesale value of a used vehicle today will be greater tomorrow, and even greater next week or next month, it's not difficult for someone selling a wholesale vehicle to make money, even if they over-paid on the day they acquired the unit.
But while the wholesale line on most dealer financial statements looked great last year, I don't think the line will look the same this year, or at least represent the real profits dealers recorded in 2021. I say this for two reasons:
The wholesale market is ever-so slowly returning to its typical trend of week-over-week depreciation. While wholesale values remain historically high, analysts expect we'll see an accelerated rate of seasonal depreciation later this year. Such market dynamics suggest to me that the era of easy money in the wholesale market, which produced an unprecedented amount of wholesale profit for dealers, is largely over.
As the wholesale market becomes less forgiving and more risky, I suspect we'll see a robust return to the creative methods that are used to determine the vehicles that get wholesaled and when, and account for the outcome of the wholesale sales on dealer financial statements. I fear that while wholesale profits were very real in 2021, they may be, shall we say, less "real" this year and beyond.
The good news is that I've been part of two bulwarks that can help dealers steer clear of the more traditional ways of wholesaling vehicles and help them achieve consistent and real profits as they sell vehicles in the wholesale market—just like CarMax, Carvana and some public dealer groups.
The first bulwark is my latest book, Whole Truth: A Fresh Money-Making Method to Wholesale: The Most Misunderstood Side of Your Business. The book attempts to help dealers get beyond the view that they should expect to break even or make a small profit as they wholesale vehicles. The book also sheds light on the darker side of wholesaling cars, and how it contributes to less-than-optimal returns as dealers sell vehicles in the wholesale market and account for them on financial statements.
The second bulwark is the new Cox Automotive solution, Upside. It's inspired by my latest book and promises dealers a whole new way to wholesale, one that guarantees real profit and eliminates risk, while creating a more positive, transparent wholesale experience for sellers and buyers, alike.
We'll be debuting the Upside solution, and offering copies of Whole Truth, at next week's NADA 2022 convention in Las Vegas. Together, I think they'll help you understand why I believe the old ways of wholesaling vehicles and the sub-optimal outcomes dealers have typically achieved, will soon be gone for good.