Will April Bring a Bounce or Bump for Used Vehicle Sales?
All eyes, it seems, are on the used vehicle sales rate for April. Why? Because the month appears to be shaping up as a touchstone of where the market's headed.
First, a quick bit of background: Overall, dealers closed the month of March selling 15 percent fewer vehicles than they did in March 2019. Compared to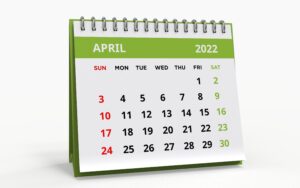 March of 2021, used vehicle sales were off even more.
To be sure, some dealers didn't have this experience. They sold record numbers of vehicles in March. If you were among this group, you were fortunate. You benefitted from what analysts might consider the start of the "spring bounce" in used vehicle sales.
Other dealers, meanwhile, have started to question if we'll have a spring bounce at all. Their March sales didn't meet expectations, and they're now seeing (and selling) fewer customers looking at their cars online and on the lot.
March's slower-than-anticipated sales appears to owe largely to delays in federal income tax refunds to consumers. As of March 22, the IRS had issued about 45 percent of tax refunds. At the same time last year, the IRS had issued 71 percent of tax refunds. The difference means we had fewer people with fresh tax refund money looking for used vehicles last month.
Now comes April. Cox Automotive chief economist Jonathan Smoke shared this outlook last week:
"We anticipate the second quarter – and particularly April – will be the strongest part of the year for used vehicle sales and values. Once we get through the spring, we expect demand to wane somewhat and should see closer to normal price depreciation patterns for the rest of the year."
The key element of Smoke's analysis is whether April will bring the bounce to used vehicle sales the industry wants to see or a bump that signals a rockier road in the months ahead.
Smoke and other analysts note several economic factors that might slow sales in April. Gas prices are high. Groceries are more expensive. Rents are up. Interest rates for mortgages and used vehicle loans are also on the rise. In other words, household budgets face some strain, which could suppress retail demand for used vehicles.
Like everyone else, I'm hoping that Smoke's forecast for a strong April proves true. If we see a bounce, it'll validate the fact that retail demand remains relatively strong. Plus, a bounce would give dealers the opportunity to sell through the average 45 days' supply of used vehicle inventory that's built up as spring sales so far haven't met expectations.