Rediscovering the Past and the Profound While Packing
I've been busy the past week, helping my wife, Nancy, pack our belongings into boxes as we officially relocate to Austin, Texas.
I did an informal poll of family and friends and arrived at a near-universal conclusion—no one really likes moving. True, there's the anticipation and excitement of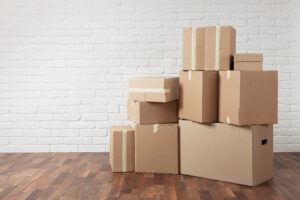 setting down roots in a new place. But it's the old place, and the process of going through everything you've accumulated over the years and deciding what to keep, that I and others find to be the least-pleasant and most-tedious part of the whole experience.
Like many empty-nester parents, Nancy and I have marveled at how much stuff we're moving. We're both a bit sentimental, so there's quite a bit we've gathered, and forgotten about, over the course of the past 20 to 30 years. We've found ourselves laughing, and sometimes crying, as we go through our things and remember the day they arrived.
The other day, we ran across a third-grade writing assignment from our son, Samson. It's a hand-written paragraph describing what he wants to be when he grows up. Back then, he wrote about his desire to be an inventor, who would build something others would need and find useful.
We found this memento about the same time Samson called to share some exciting news from his job at Oracle Netsuite in Austin. He told us that he'd just met with top executives at the company to share a formula, and software tool, that he developed for identifying and selling business prospects for the company. They liked his invention and may develop it for broader use.
Of course, Nancy and I were extremely proud to hear the news. And, we were struck by the happy coincidence of finding his assignment and hearing that our invention-minded third-grader is living the life he imagined more than 15 years ago.
The packing also produced a baseball I had completely forgotten about and that I didn't relish remembering. The ball came from my Little League team in the summer of 1967, when I was nine years old. The ball bears the name of our team sponsor, General Glass, a local auto glass shop, and our team's record, 5-8. The ball also shows my batting record and the early stages of a degenerative eye disease I still carry: 12 at-bats, 11 strikeouts and one hit.
I distinctly remember the hit. Somehow, I managed to connect with the ball and send it into the outfield. It was a triple that should have been a home run—except I had trouble finding and rounding the bases. I remember the screams and yells from coaches and parents in the stands. I also remember the laughs from those who apparently found my struggle in the basepaths a bit comical.
The baseball and Samson's writing assignment won't join what seems like a vast quantity of stuff we're donating or throwing out as we pack up the house. No, we're keeping them as reminders of how early experiences in life profoundly shape the lives we eventually lead.