A Memorable Honor from NIADA
I received a humbling and significant honor from NIADA (the National Independent Automobile Dealers Association) yesterday at the group's convention in Las Vegas. They presented me with a Ring of Honor, an award they give to select leaders who advance the growth and professionalism of the automotive industry.
It was touching to receive the award. It reminded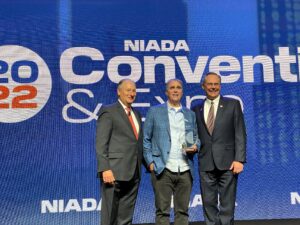 me of my father, who spent years as an independent dealer, and all the other independent dealers who have become friends over the years through my work as a dealer and with vAuto and Cox Automotive. I also had the chance to catch up with some at the convention.
The award will have a prominent place in my home office. Thank you again, NIADA, for the once-in-a-lifetime honor and recognition.
For those interested, here are the remarks I shared after receiving the award:
Thank you, everyone. It's quite an honor for me to receive NIADA's Ring of Honor award, and I'll share why in just a moment.
First, though, I'd like to acknowledge and thank NIADA board president, Lou Tedeschi, NIADA CEO Bob Voltmann and NIADA vice president of member services, Jim Gibson, for the work you and your teams do to advance the fortunes and interests of independent dealers across the country. The long-standing success of independent dealers, and the important role they play in our industry, owes to the things you and your teams do every day to help them be successful.
A few minutes ago, you heard a prime example of this work and commitment. The annual scholarship sponsored by NIADA, Northwood University and Cox Automotive stands as testimony to NIADA's interest and investment in providing opportunities for the next generation of leaders who will shape the future of the car business. 
This conference also reflects NIADA's commitment to independent dealers. Events like these aren't easy to put together or pull off. But in my experience, annual conferences like this often serve as the single best opportunity for dealers to connect with longtime friends and gain new ideas and perspective, which they can bring home and sharpen how they do business.
Now, let's get to the Ring of Honor award and its meaning. A few weeks ago, when I learned that I would be here today to accept the award, my mind was flooded with memories. I thought of my Dad, who was like many of you in this room. He was a true blue car guy. He started in the business as a wholesaler, and eventually owned an independent auction. From there, he became an independent dealer in Northwest Indiana. His career included stops in management and sales at franchise stores. The car business was my dad's true calling, and he eventually found a way to owning his own franchise, Len Pollak Buick AMC, Jeep and Renault in Gary, Indiana.
Like many of you, I grew up in the car business, washing cars, moving cars, making parts runs, cleaning the bathrooms and doing all the odd jobs that must be done at a busy dealership. I loved the vibe of the dealership, and how we made a difference in the lives of the customers we served. I sold my first car during the first summer I was home from college. Quite simply, I was hooked.
When I graduated from college, my Dad and I opened a Cadillac store in Elmhurst, Illinois. It was there that I saw, first-hand, how independent dealers played an important role in the success of our business. If we had vehicles we couldn't or wouldn't retail, we'd call our local independent dealer friends. We'd sell and trade used cars back and forth. My Dad and I considered these symbiotic relationships—business dealings that benefitted both of us.
It was this experience that shaped my belief that, without successful independent dealers in communities across America, there wouldn't be successful new car franchises. In my view, independent dealers serve as the foundation of the car business. The work all of you do every day is a critical part of the entire automotive retail ecosystem.
I brought this perspective to vAuto when I founded the company more than 15 years ago. I had an idea that dealers, franchise and independent alike, might benefit from having more market data in their hands to make better decisions about how they manage and sell used vehicles. When I hit the road to sell my software to dealers, I didn't care if the dealer had a franchise brand on the sign out front. My goal was to help every dealer, regardless of how they came up in the business, achieve greater success.
That's why the Ring of Honor award means so much to me. The award serves as affirmation that as dealers, we are all in this game together. The interests of independent and franchise dealers have always been intertwined and I believe they always will be.
On a more personal level, the Ring of Honor award helps ease one of my long-standing insecurities. You see, I was never a car guy like my Dad or many of you in this room. I was the son of a successful dealer who cast a long shadow. Sure, I had a knack and love for the business. But I wasn't a car guy in the classic sense.
But here I am today, receiving the Ring of Honor award from NIADA. It's really the highest level of recognition I could hope for. The award signifies that I've been accepted as a car guy by the true car guys of the car business—all of you, the independent dealers who help make our shared business so exciting and special.
Thank you for this honor and this very special moment. I'll cherish it forever. Thank you.