Signs of a Softening Retail Market in Used Vehicles
Earlier this month, I noted how retail used vehicle sales in April might be a stage-setter for the remainder of the year. Like many dealers, I was hopeful that sales would take a positive turn—that a shower of sales in mid-to late April might bring flowers in May and beyond.
Well, it's starting to look like we won't see the "bounce" in retail sales everyone hoped would materialize. The hope was based in part on the fact that,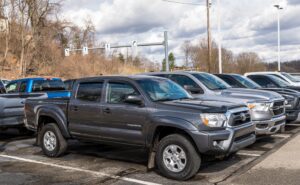 as of a few weeks ago, a smaller share of consumers had received their federal tax refunds than usual. The arrival of those delayed checks, the thinking went, would hopefully cause retail sales of used vehicles to pick up.
Unfortunately, as many dealers know, retail sales of used vehicles haven't increased substantially as April has unfolded—despite the arrival of more (and larger) Internal Revenue Service refunds than the same time last year. The upshot: Tax refund dollars are out there but they don't seem pointed toward used vehicles.
The end result is that while retail demand remains relatively strong, dealers are experiencing a far more muted spring selling season than many expected this year. At Cox Automotive, analysts had projected April to be one of the best months of 2022 for retail sales of used vehicles. Today, analysts are revising their retail sales forecasts for the calendar year. Cox Automotive chief economist Jonathan Smoke believes we'll see 500,000 fewer retail sales of used vehicles this year compared to last year.
As I've talked to dealers in recent days, I've shared how the current rates of retail sales, combined with broader economic factors such as rising inflation and higher living costs overall, suggest the time has arrived for more stocking and pricing discipline. At some stores, inventory investment fundamentals have gone soft as dealers have enjoyed two consecutive years of record-setting used vehicle sales and profits.
Across the country, dealers have a roughly 45-days supply of used vehicle inventory on their lots. Given the current conditions, I've been reprising my guidance that dealers should balance their inventories to their rolling 30-day total of retail sales. If you're long on inventory right now compared to your rolling 30-day retail total, the time has arrived when tempering acquisition efforts, particularly in the higher-cost sourcing channels like auctions, makes good sense. It's also a time that when you need to make doubly sure that your appraisers and buyers understand exactly how much your inventory needs the vehicle they're considering.
The current conditions also suggest that dealers will need to mind their retail used vehicle pricing more earnestly than they've needed to in the recent past. A few months ago, some anticipated that a spring sales bounce would cause price appreciation in the wholesale and retail markets—the best of both worlds for dealers.
While we've seen some appreciation in the wholesale market in recent weeks (about 2 percent, roughly half of typical spring value appreciation), retail prices aren't moving up in any significant way. Some anticipate retail prices will trend down as dealers realize spring buyers aren't coming as quickly, or in the numbers, that they expected.
Perhaps the best news of the current used vehicle market environment is that we've all been here before. We know how to optimize used vehicle profitability when market conditions aren't fully in our favor and margin compression risks are on the rise. It's time to restore your focus on inventory investment management fundamentals to stay ahead of what appears to be a softer used vehicle market.